Cork Flooring
Cork flooring is made from oak trees. Cork flooring is actually made from the remnants that come from the production of the corks that are put in bottles, making cork flooring an even better choice for the environment. It is constructed from the same cork that is used in bottling wine!
The cork from oak trees comes from a process where the bark of the tree is trimmed. The tree is not actually cut down. This makes it an environmentally flooring material. The bark of the trees grows back and cork may be harvested from the tree again and again. It is not uncommon for a tree to produce cork for hundreds of years when done properly.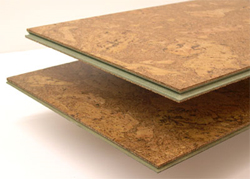 The Cork Oak grows mainly in the Mediterranean basin with the largest exporter of cork being the country of Portugal. Cork has been used for many years by ancient Egyptians for bottle stoppers, used in conjunction with fishing nets, and many other things. Its unique characteristics have always been recognized as valuable as a waterproof and very buoyant type of wood.
Cork wood has a unique honeycomb structure that makes up the internal structure of its molecules. This gives cork it buoyancy and makes it extremely light weight. It is roughly 75% air molecules with 25% wood. Perhaps you have never seen cork flooring. However, most of us drink wine or know someone who does. Notice how malleable and light a cork from a wine bottle is next time you have the opportunity. You can really get the cork to change shape by pressing it between your fingers.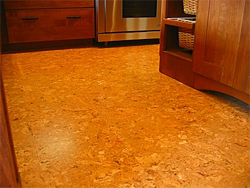 Cork flooring has many great advantages because of these characteristics. Cork flooring is quiet. Because cork is so impressionable and has a lot of bend to the wood, it accepts footsteps with little or no sound. Corks ability to muff sounds is one great reason to install cork flooring. Cork is great in music rooms, kitchens, game rooms, and any other room that may be extremely noisy. Cork will absorb some of that sound.
The suppleness and softness of cork will provide a cushy platform to walk on which will be sure to be appreciated over time. Homes and businesses that install cork flooring notice the difference in the way the people who dwell there feel after walking on the flooring for long periods of time. Naturally, softer flooring material will cause less physical strain. That is a serious thing to consider if the people walking on the flooring will be standing for any length of time.
Are you considering installing cork flooring? Connect to multiple cork flooring installation professionals in your local area by filling out our simple form. All of the cork floor contractors we will connect you to are licensed and insured. Receive free quotes from multiple professionals with FlooringExpertUSA.
Flooring Directory
Shop for Flooring
Flooring Articles
Testimonials
"I saved myself hours by using FlooringExpertsUSA.com for my new hardword floor installation. I would have had to research and call multiple hardward floor contractors. Instead, I filled out a quick form and local flooring contractors contacted me with price quotes. "I've never had a home improvement project go so smoothly. "
Thank you! The contractor I choose was a true professional. "
"I used a contractor from your service to sand and refinish my hardware floors and I couldn't happier with the decision I made. The results are tremendous and the floor shines like it is new. This is the best thing I have done for the interior of my home. "
Hardwood Floor Types
Oak Flooring Contractors
Maple Flooring Contractors
Pine Flooring Contractors
Teak Flooring Contractors
Walnut Flooring Contractors
Solid Wood Floors
Engineer Impregnated Wood
Plank Hardwood Flooring
Parquet Flooring
Floor Brands
Anderson
Armstrong
BR111
Bruce
Capella
Carolina Hardwood
Columbia Wood
Contractor's Choice
Dellamano
Exdura
GIB
Harris-Tarkett
Kahrs
Mannington Wood
Mullican
Muskoka
Passion Floors
Roane Mountain
Saso
Shaw Hardwood
Somerset
Vineyard
Virginia Vintage
Westhollow Wood