*FlooringExpertUSA.com Reviewed Company*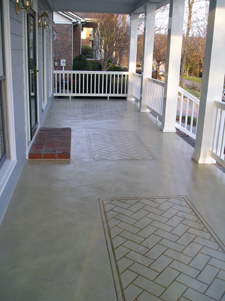 Flohr Coatings, Inc.
2317 Meridian Street #10
Huntsville, AL 35811
Company Overview
We manufacture and install decorative concrete coatings. We handle numerous applications including interior, exterior, and high traffic commercial floors.
Contact Name
Daniel Flohr
Phone Number
(256) 533-0997
Email
Web Site
http://www.flohrcoatings.com
Type of Flooring Company
We resurface existing concrete using decorative coatings. We can make any surface look like tile, slate, brick, or block. The coatings are durable and easy to clean. We can also cover existing tile, laminate, and hardwood.
Detailed Business Description
We are a Huntsville based company that has been in business since 2001. Our company prides itself on reputation and quality of work. We do on site estimates and references are available upon request.
Products and Brands
We manufacture our own concrete coating and acyrlic sealer. We use General Polymer urethane sealers.
License and Insurance Information
Safeco Business Liability Insurance $300,000 each occurrence, 600,000 general aggregate State of Alabama Business License Control # 471001156
Awards, Certifications and Memberships
BBB A+ rating since 2002 Homebuilders Assn
Service Area
Huntsville and surrounding North Alabama
Photos: