Why Exotic Hardwood Floors?
Installing Exotic Hardwood Floors is a great way to boost the look and appeal of your floors. There are many reasons to choose exotic hardwood and imported exotic hardwood over domestic hardwoods. The greatest thing about exotic hardwood floors is that they are unique and different than typical brands of domestic flooring. You will have a wider range of options with exotic hardwoods and there are many beautiful styles that you do not see in the most homes. This added expansion of styles does not come without a price.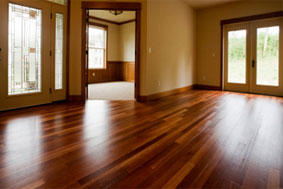 Exotic hardwood floors are typically more expensive, naturally. However, you can get away with some great deals on exotic hardwood floors as well! It is possible to find a Bamboo or a carbonized hardwood floor in the $2/bf (boarded foot) range. That goes to show, it is possible to install exotic hardwood floors without breaking the bank.
You can even find laminate flooring in exotic styles! Those can be as cheap as $.99-$1.99/bf. Laminate flooring is extremely popular these days because it is stands up well to abuse and is very moisture resistant. Of course, you still can't beat the natural look of wood if you've got the money for it.
Most styles fall in the $5/bf-$10/bf range and go up from there. And they can go way up! The high end exotic hardwood floors tend to be in the $20/bf and go as high as $40-60 for some rare types like Macassar Ebony or a Ziricote. "Take your shoes off at the door, people!"
Need to install or refinish exotic hardwood floors? Get start now! >>
Flooring Directory
Shop for Flooring
Flooring Articles
Testimonials
"I saved myself hours by using FlooringExpertsUSA.com for my new hardword floor installation. I would have had to research and call multiple hardward floor contractors. Instead, I filled out a quick form and local flooring contractors contacted me with price quotes. "I've never had a home improvement project go so smoothly. "
Thank you! The contractor I choose was a true professional. "
"I used a contractor from your service to sand and refinish my hardware floors and I couldn't happier with the decision I made. The results are tremendous and the floor shines like it is new. This is the best thing I have done for the interior of my home. "
Hardwood Floor Types
Oak Flooring Contractors
Maple Flooring Contractors
Pine Flooring Contractors
Teak Flooring Contractors
Walnut Flooring Contractors
Solid Wood Floors
Engineer Impregnated Wood
Plank Hardwood Flooring
Parquet Flooring
Floor Brands
Anderson
Armstrong
BR111
Bruce
Capella
Carolina Hardwood
Columbia Wood
Contractor's Choice
Dellamano
Exdura
GIB
Harris-Tarkett
Kahrs
Mannington Wood
Mullican
Muskoka
Passion Floors
Roane Mountain
Saso
Shaw Hardwood
Somerset
Vineyard
Virginia Vintage
Westhollow Wood