Hardwood floor care tips and tricks
If you have flooring made of solid hardwood, you will be glad to know they can last a lifetime, if not generations, with a little maintenance and care. It is very important to follow these tips to make the floor last as long as possible.
Hardwood floor care focuses mainly on damage prevention.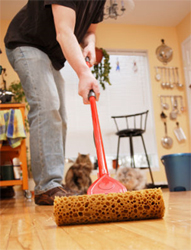 Clean the floor Regularly: Sand, dust and grit can corrode and spoil the texture of your hardwood floors. They cause dents, scratches and dullness of the surface when they get trapped between people's shoes and the floor. Foot traffic creates friction and it can have a sand paper effect, causing nicks, scrapes, and even gouges to the floor. Sweep the floor regularly to avoid damage as much as possible. Use mats at entry ways to the home and have people remove their shoes. If you are buying new floors then you may even want to make it a rule.
Avoid Wetness, Spillage, and Moisture: Water is the enemy of wood! This cannot be stressed enough. Water will be absorbed by wood floors and cause staining, molding, and buckling of the boards. If there is any sitting water on your floor, make sure to wipe it up as soon as possible. It does not take long to start seeing the signs of damage.
Avoid water damage by:
Using door mats in entry way.
Using floor mats in front of the kitchen sink, under pet food dishes, and anywhere where water can typically spill.
Using a sparing amount of water when cleaning the floor. There is no need to drench the floor. Use a semi-wet mop when cleaning. You want to avoid saturating the cracks in between boards.
Hard cleaners: Ensure to avoid using oil-based soaps. These tend to accumulate on the hardwood floor surface and when it is time to refinish the floor there could be problems. Avoid using products like Murphy's oil soap. Products like that are simply adding a film to your floor. The film will wear away in areas of heavy foot traffic and build up in other areas. Not only does this create an uneven sheen, but it can make a floor tougher to sand. Use products purely made for cleaning hard wood floors. You may also use a mixture of water and vinegar, mostly water. Vinegar is a great natural cleaner.
Furniture: Many people make the mistake of moving the furniture across the floor instead of lifting it. Make sure to lift and move. You can also use felt contacts at the bottom of the legs of your furniture to avoid scratches on the hardwood floor. Definitely use felt pads on the legs of your kitchen chairs.
High Heels: Avoid wearing high heels on hardwood floors! Ever! Wearing high heels will gouge a floor leaving little marks everywhere! This can happen easily and quickly. You may have just installed new hardwood floors but one cocktail party later you could be doing a damage report. Avoid walking on your new wood floors with high heels at any cost.
Flooring Directory
Shop for Flooring
Flooring Articles
Testimonials
"I saved myself hours by using FlooringExpertsUSA.com for my new hardword floor installation. I would have had to research and call multiple hardward floor contractors. Instead, I filled out a quick form and local flooring contractors contacted me with price quotes. "I've never had a home improvement project go so smoothly. "
Thank you! The contractor I choose was a true professional. "
"I used a contractor from your service to sand and refinish my hardware floors and I couldn't happier with the decision I made. The results are tremendous and the floor shines like it is new. This is the best thing I have done for the interior of my home. "
Hardwood Floor Types
Oak Flooring Contractors
Maple Flooring Contractors
Pine Flooring Contractors
Teak Flooring Contractors
Walnut Flooring Contractors
Solid Wood Floors
Engineer Impregnated Wood
Plank Hardwood Flooring
Parquet Flooring
Floor Brands
Anderson
Armstrong
BR111
Bruce
Capella
Carolina Hardwood
Columbia Wood
Contractor's Choice
Dellamano
Exdura
GIB
Harris-Tarkett
Kahrs
Mannington Wood
Mullican
Muskoka
Passion Floors
Roane Mountain
Saso
Shaw Hardwood
Somerset
Vineyard
Virginia Vintage
Westhollow Wood