What are Floating Hardwood Floors?
Most floating hardwood floors are made with engineered flooring material. This is true 99.9% of the time. Typically, a finished hardwood layer is glued on top of wood or multiple ply layers. These layers are glued together to form the part of the board that you do not see.
Floating hardwood floors are long lasting. They typically last at least 50 years and can last upwards of 100 years depending on foot traffic and care. Many types can be sanded two or three times during there life! This greatly increases the life of these floors in itself.
Why are they called "floating" hardwood floors?
Floating hardwood floors got their name because they are not attached to the subfloor. The floor "floats" on top of another surface that is connected to the subfloor, i.e., concrete, tile, etc. Therefore, these floors are described as "floating."
Why Choose Floating Hardwood Floors?
In a word, Moisture! Moisture is the most common reason for choosing this style of flooring. The main benefit for choosing floating hardwood floors is to keep control over the expansion and contraction of your flooring. Therefore, floating hardwood floors are often installed in humid areas.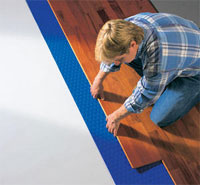 Wood Floors contract and expand with moisture changes. Basements and moisture rich rooms can cause problems for floors. Also, geographical areas with high humidity levels are sure to cause more expansion and contraction in flooring than dryer places. If you live in a sultry area of the country installing floating hardwood floors may be right for you.
Normal hardwood floors may separate. In time, the gaps between boards get larger and more noticeable. This is very undesirable. A typical hardwood floor will contract and expand much more than the engineered flooring that is used in floating hardwood floor installation.
In addition, there are other reasons that could make floating hardwood material a good choice for you. Perhaps it would take too much time and money to tear up the existing flooring. Removing a tile floor or a floor with asbestos could be a huge project. Installing floating hardwood floors over the existing floors is often a cost effective method of changing the flooring without getting into the expense of a demolition project.
Need to install or refinish floating hardwood floors? Get start now! >>
Flooring Directory
Shop for Flooring
Flooring Articles
Testimonials
"I saved myself hours by using FlooringExpertsUSA.com for my new hardword floor installation. I would have had to research and call multiple hardward floor contractors. Instead, I filled out a quick form and local flooring contractors contacted me with price quotes. "I've never had a home improvement project go so smoothly. "
Thank you! The contractor I choose was a true professional. "
"I used a contractor from your service to sand and refinish my hardware floors and I couldn't happier with the decision I made. The results are tremendous and the floor shines like it is new. This is the best thing I have done for the interior of my home. "
Hardwood Floor Types
Oak Flooring Contractors
Maple Flooring Contractors
Pine Flooring Contractors
Teak Flooring Contractors
Walnut Flooring Contractors
Solid Wood Floors
Engineer Impregnated Wood
Plank Hardwood Flooring
Parquet Flooring
Floor Brands
Anderson
Armstrong
BR111
Bruce
Capella
Carolina Hardwood
Columbia Wood
Contractor's Choice
Dellamano
Exdura
GIB
Harris-Tarkett
Kahrs
Mannington Wood
Mullican
Muskoka
Passion Floors
Roane Mountain
Saso
Shaw Hardwood
Somerset
Vineyard
Virginia Vintage
Westhollow Wood