Distressed Hardwood Floors
Are you partial to the vintage look? Distressed wood flooring is becoming a very popular alternative to new looking floors. Distressed wood floors are purposefully made to look aged, weathered, and antique. This is done by scraping, gouging, and marking the floor before it is finished. There basically two different options when installing distressed floors.
The first type of distressed flooring is bought pre-distressed. The distressing of the floor is complete when you purchase the hardwood floor. The distressed wood floor is assembled and distressed at the factory.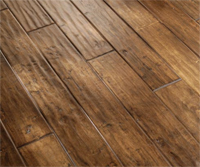 A major advantage of using this option is the cost! Distressed hardwood floors that are pre-finished before installation are more cost effective than the alternative which we will talk about in a moment. Another major advantage of choosing this method is the ability to determine the outcome. By viewing a couple of pieces of the floor you can gauge what the floor may look like when completely finished. If you do not like one style of one floor it is much easier to choose another type of flooring since it is not yet purchased or installed. It will be easier to judge what the floor will ultimately look like because all of the distressing and weathering is done before the time of purchase and installation.
The second way to achieve the look of distressed wood flooring performing the distressing after the hardwood floor is installed. The aged look is achieved by scraping, sanding, and notching the floor post-installation.
The benefits of choosing to install your distressed floors in this fashion are that the results are going to be unique and as beautiful as you wish. You are able to control the project and make it as detailed or as simple as you would like. Basically, you can make your distressed floor look as nice as the amount of money or time you would like to put into it. Also, this method allows you to be creative as to how and where you wish to extenuate the distressed wood flooring look.
The major drawback of using this distressed flooring method is that it will cost more. If you are tackling the project yourself then you will be spending a lot of your time getting the hardwood flooring just right. If you choose to hire an expert then this will cost you more money. Remember, it is a time consuming project so be sure to have an honest discussion with your contractor regarding how much distressing you would like done to your floor. If you are a meticulous person, you could end up having a contractor spend an extra day or two on this part of the project alone.
Is distressed wood flooring a fad? The short answer to this is "no." How many things can you think of besides hardwood floors that people go out of their way to make look older? It's not a long list. People really enjoy the old time look when it comes to floors. Distressed hardwood floors help make older homes keep their character and can give newer homes a classic and mature look. Whether or not distressed hardwood floors are for you is a matter of taste. These floors often do look amazing and floors are a major selling point to have in your home. A beautiful distressed floor that looks weathered and timeless can really accent your home.
Distressed hardwood floors say fancy. They will set your hardwood floors apart from other houses and hardwood floors you typically see. It will be something that will look beautiful and timeless even when the floor may be only days old. You may want to install distressed hardwood floors for yourself now or be considering installing new floors before you sell your existing homes. Regardless, they can be a great way to accent your home and add value and richness. If you are interested in this then contact one of our flooring experts in your area.
Flooring Directory
Shop for Flooring
Flooring Articles
Testimonials
"I saved myself hours by using FlooringExpertsUSA.com for my new hardword floor installation. I would have had to research and call multiple hardward floor contractors. Instead, I filled out a quick form and local flooring contractors contacted me with price quotes. "I've never had a home improvement project go so smoothly. "
Thank you! The contractor I choose was a true professional. "
"I used a contractor from your service to sand and refinish my hardware floors and I couldn't happier with the decision I made. The results are tremendous and the floor shines like it is new. This is the best thing I have done for the interior of my home. "
Hardwood Floor Types
Oak Flooring Contractors
Maple Flooring Contractors
Pine Flooring Contractors
Teak Flooring Contractors
Walnut Flooring Contractors
Solid Wood Floors
Engineer Impregnated Wood
Plank Hardwood Flooring
Parquet Flooring
Floor Brands
Anderson
Armstrong
BR111
Bruce
Capella
Carolina Hardwood
Columbia Wood
Contractor's Choice
Dellamano
Exdura
GIB
Harris-Tarkett
Kahrs
Mannington Wood
Mullican
Muskoka
Passion Floors
Roane Mountain
Saso
Shaw Hardwood
Somerset
Vineyard
Virginia Vintage
Westhollow Wood