Eco-Friendly Flooring – Bamboo Hardwood Flooring
Bamboo flooring is an extremely popular choice of flooring. It has gained popularity over the past decade and is now one of the most popular types of flooring that is being installed today. Much of this is due to its durability, low cost, and excellent durability.
Shorter renewable cycle
One amazing fact about bamboo is that it is a grass, and, therefore, grows faster than trees. Typical hardwood trees take as many as 50 or even 100 years to gain complete maturity! In contrast, bamboo, takes five or seven years to gain complete maturity. Thus, the regeneration cycle for bamboo hardwood flooring is much less when compared to hardwood varieties.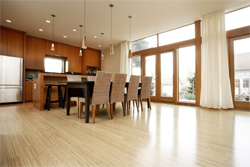 More durability
Bamboo hardwood flooring offers more durability and a longer shelf life when compared to conventional wooden flooring. It is one of the hardest types of grass there is in the world and stacks up well when compared to other hardwoods. Bamboo hardwood flooring is very hard and holds up well to against gouging and deep nicks. However, it does scratch quite easily! The scratches aren't deep but they can accumulate rather quickly.
Cost advantage
Another important advantage over other types of hardwood floors is that bamboo hardwood flooring costs much less compared to other types of wood flooring. It can be as inexpensive as $2 per square foot. For more on the costs of bamboo flooring and other types of floors visit www.costowl.com. Bamboo hardwood flooring continues to remain aesthetically and visually appealing, and, with the attractive price, it is one of the greatest values in the hardwood flooring market.
Color variations
Bamboo hardwood flooring is available in a variety of colors. This is due largely to the fact that bamboo is cultivated during differing seasons, climatic conditions and with differing supplies of water. If you purchased different planks of bamboo hardwood flooring from various manufacturers you would undoubtedly find marked differences in color. Take note of this when shopping for your new bamboo floors. Also consider which way grain runs, vertical or horizontal. Purchase bamboo and other types of flooring on our shopping page or request free price quotes for bamboo floor installation from our network of flooring contractors.
Care and maintenance
Once installation of your bamboo hardwood flooring is complete, the proper care and maintenance is crucial in order to preserve your new bamboo floors. First, ensure the bamboo hardwood flooring is kept dry at all times. This rule applies to all hardwood flooring and bamboo is no exception. Water is the enemy. Keep the floor clean. Sweep and keep your floor absent of dirt and grit. Because bamboo is especially prone to scratching, keeping the floor as clean as possible will help keep it looking nice. Shoes can grind dirt and sand into the floor and cause scratching. Keep it clean by sweeping, using shoe mats, and entry rugs.
Flooring Directory
Shop for Flooring
Flooring Articles
Testimonials
"I saved myself hours by using FlooringExpertsUSA.com for my new hardword floor installation. I would have had to research and call multiple hardward floor contractors. Instead, I filled out a quick form and local flooring contractors contacted me with price quotes. "I've never had a home improvement project go so smoothly. "
Thank you! The contractor I choose was a true professional. "
"I used a contractor from your service to sand and refinish my hardware floors and I couldn't happier with the decision I made. The results are tremendous and the floor shines like it is new. This is the best thing I have done for the interior of my home. "
Hardwood Floor Types
Oak Flooring Contractors
Maple Flooring Contractors
Pine Flooring Contractors
Teak Flooring Contractors
Walnut Flooring Contractors
Solid Wood Floors
Engineer Impregnated Wood
Plank Hardwood Flooring
Parquet Flooring
Floor Brands
Anderson
Armstrong
BR111
Bruce
Capella
Carolina Hardwood
Columbia Wood
Contractor's Choice
Dellamano
Exdura
GIB
Harris-Tarkett
Kahrs
Mannington Wood
Mullican
Muskoka
Passion Floors
Roane Mountain
Saso
Shaw Hardwood
Somerset
Vineyard
Virginia Vintage
Westhollow Wood