Oak Hardwood Flooring
More than one third of all wood products used in people's homes are made of oak. Let's look at oak and some of its characteristics that make it what it is.
There are over 250 different types of oak. It is grown in many parts of the world. Over 50 different kinds are grown in the USA alone.
Oak is an extremely hard and durable wood. Though there are almost three hundred different types of oak, it can be divided into two main types; white oak and red oak.
Red oak has a very warm and vibrant feel to it because of its reddish tint, especially around knotted areas. It is coarser than its counterpart, white oak. Red oak typically grows in places where there is more moisture, and even occasional flooding in some cases. This makes the wood coarse, tough, and more difficult to use in woodworking applications.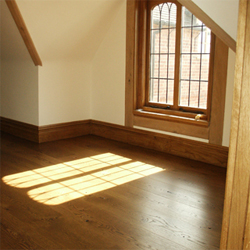 White oak is easier to work with when than red oak. It is much lighter, finer, and smoother than red. The tell tale sign of white oak is that it appears much smoother, with a less prominent grain, which gives it a smoother look overall.
Because of white oak's smooth, light texture, it is the top choice when using oak in furniture and cabinets. However, sometimes a bit of a coarse grain is desired. Red oak looks marvelous in floors, better than white, some would argue. In the end, it's all a matter of taste. Explore the looks and prices of both types of oak flooring before making your decision and make sure, once they are done, to follow our floor care tips to make sure your new oak floors stay looking new. You may purchase high end and inexpensive oak flooring.
Flooring Directory
Shop for Flooring
Flooring Articles
Testimonials
"I saved myself hours by using FlooringExpertsUSA.com for my new hardword floor installation. I would have had to research and call multiple hardward floor contractors. Instead, I filled out a quick form and local flooring contractors contacted me with price quotes. "I've never had a home improvement project go so smoothly. "
Thank you! The contractor I choose was a true professional. "
"I used a contractor from your service to sand and refinish my hardware floors and I couldn't happier with the decision I made. The results are tremendous and the floor shines like it is new. This is the best thing I have done for the interior of my home. "
Hardwood Floor Types
Oak Flooring Contractors
Maple Flooring Contractors
Pine Flooring Contractors
Teak Flooring Contractors
Walnut Flooring Contractors
Solid Wood Floors
Engineer Impregnated Wood
Plank Hardwood Flooring
Parquet Flooring
Floor Brands
Anderson
Armstrong
BR111
Bruce
Capella
Carolina Hardwood
Columbia Wood
Contractor's Choice
Dellamano
Exdura
GIB
Harris-Tarkett
Kahrs
Mannington Wood
Mullican
Muskoka
Passion Floors
Roane Mountain
Saso
Shaw Hardwood
Somerset
Vineyard
Virginia Vintage
Westhollow Wood