Engineered Hardwood Flooring
Engineered hardwood flooring is one of the latest and greatest advancements of hardwood flooring in the past couple of decades. It provides the look of hardwood without the expense. It looks like authentic hardwood because the top layer is actual hardwood. The top layer is comprised of a real wood layer glued onto an HDF, high density fiber, layer that acts as a base for the rest of the board, which you won't see.
No matter what kinds of solid hardwood are available, there is usually a suitable equivalent in the form of engineered hardwood flooring. These include common types such as: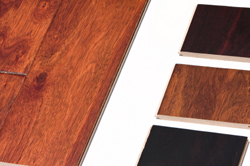 Bamboo: Bamboo engineered hardwood flooring is a popular choice among homeowners today because it is cost effective, durable, and has less of a carbon footprint compared to other types of flooring. Bamboo is reasonably priced because it comes from the east and is available in mass quantities there. It grows quickly and is friendlier on the environment than many other types of wood floors. Find multiple types of bamboo flooring at our online store.
Hickory: This kind of engineered hardwood flooring is very rich in texture. Hickory has many dark and medium tones that can provide a refined and classy look to them.
Maple: Maple type of engineered hardwood flooring has very elegant look. Warm yellowish and golden tones are staples of this type of wood. This wood will look great in the family room, kitchen, or wherever!
Oak: The red variants of oak engineered hardwood flooring are both traditional as well as very aesthetically appealing. These lend a timeless elegance to any home. Rooms with fireplaces and homes with classic architecture look fantastic with this vibrant wood.
A pre-finished choice
Most engineered hardwood flooring is pre-finished. This means that the flooring comes sanded and finished ahead of time. Once floor has been installed the job is done and the floor is ready to walk on. In contrast, solid hardwood usually is installed unfinished and needs to be sanded and coated before installation. Naturally, being able to bypass the floor refinishing process can provide a great deal of cost savings. Some flooring contractors charge $2-$4 per square foot to sand and finish hardwood floors. Skipping this step can save thousands. For more information on the cost of refinishing hardwood floors, visit www.costowl.com.
Restoring Engineered Hardwood Floors
Can my hardwood floors be sanded and refinished? This is a common question asked by homeowners. The answer is yes, most of the time. Most engineered hardwood floors have a thickness that measured somewhere between 1/32" and 3/16" thick. Now, the thickest of engineered wood floors allow for 2-3 complete sanding and refinish jobs. At the thinner end of the spectrum, it may be wise to sand and refinish the floors only once. If the floor is sanded below the top layer of wood then the HDF, high density fiber, layer will be exposed. Needless to say, that will be unsightly and there's not much you can do to help the floor look better at that point.
Flooring Directory
Shop for Flooring
Flooring Articles
Testimonials
"I saved myself hours by using FlooringExpertsUSA.com for my new hardword floor installation. I would have had to research and call multiple hardward floor contractors. Instead, I filled out a quick form and local flooring contractors contacted me with price quotes. "I've never had a home improvement project go so smoothly. "
Thank you! The contractor I choose was a true professional. "
"I used a contractor from your service to sand and refinish my hardware floors and I couldn't happier with the decision I made. The results are tremendous and the floor shines like it is new. This is the best thing I have done for the interior of my home. "
Hardwood Floor Types
Oak Flooring Contractors
Maple Flooring Contractors
Pine Flooring Contractors
Teak Flooring Contractors
Walnut Flooring Contractors
Solid Wood Floors
Engineer Impregnated Wood
Plank Hardwood Flooring
Parquet Flooring
Floor Brands
Anderson
Armstrong
BR111
Bruce
Capella
Carolina Hardwood
Columbia Wood
Contractor's Choice
Dellamano
Exdura
GIB
Harris-Tarkett
Kahrs
Mannington Wood
Mullican
Muskoka
Passion Floors
Roane Mountain
Saso
Shaw Hardwood
Somerset
Vineyard
Virginia Vintage
Westhollow Wood