*FlooringExpertUSA.com Reviewed Company*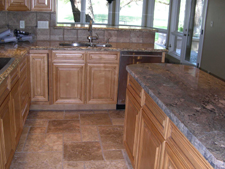 East Valley Floors Inc.
509 East Chicago Circle #2
Chandler, AZ 85225
Company Overview
Full service Flooring sales and Installation company. Serving the entire Phoenix metro area. Wholesale and contractor prices to the public.
Contact Name
Von Payne
Phone Number
(480) 926-3444
Email
Web Site
http://www.eastvalleyfloors.com
Type of Flooring Company
Wood, Engineered Wood, Tile, Carpet, Laminate, Vinyl, Granite Countertops.
Detailed Business Description
Established in 1984 by Von Payne. family owned. most of our employees and installers have been with us over 15 years. average installation experience of our installers: 20 + years! Scott Fredericks is our lead Salesman. He has 30 years of installation experience, and 10 years of sales experience. We also do repairs, and provide same day or next day quotes, and quick turn around on installation.
Products and Brands
All brands of tile, wood, vinyl, carpet.
License and Insurance Information
AZ ROC #119941, & 151485.
Awards, Certifications and Memberships
BBB,WFCA, CTSAA, AZ ROC.
Service Area
PHOENIX METRO AREA.
PDFs
Photos: